Health
In our pursuit of health (the state of being free from illness or injury) we discovered the magic of meditation, the wonderful benefits of prayer, and the infusion of mind, body, and spirit through the consumption of tea.  In this pursuit, we have come across various writings, videos, and artistic presentations which can further these efforts.  To be of additional service to you, we have compiled an assortment of these works which you may find helpful.   Please enjoy as we have.
11 Surprising Olive Oil Benefits
The health benefits of 
olive
 oil include treatment of colon and 
breast cancer
, 
diabetes
, 
heart
 problems, arthritis, and high 
cholesterol
. It also aids in 
weight loss
, improves 
metabolism
, digestion, and prevents aging. It is a staple ingredient for many culinary preparations and also serves a variety of medicinal purposes.
It helps in lowering the bad cholesterol levels in our blood, as it is rich in monounsaturated fats. Extra virgin olive oil contains the highest level of antioxidant polyphenols and oleic acid. It is thus a healthier option compared to other vegetable oils.
However, it also has lots of calories, so it should be used in moderate amounts for the best health results.
What is Olive Oil?
Olive oil is an essential fruit oil, which we get from the olive tree crop found mainly in the Mediterranean regions. It has been used by mankind for many centuries. It is utilized for cooking purposes, developing cosmetic products and soaps, for medicinal purposes, and as pharmaceutical supplements. It can also be used as fuel and for lighting lamps.
Watch Video: 8 Amazing Benefits Of Olive Oil
For the latest videos, please subscribe to our channel
Types of Olive Oil
Various types of oil include the following:
Virgin Olive Oil: This variety is used for cooking with lower acid content.
Extra Virgin Olive Oil: This is a much better variety and is made by cold pressing the olive fruit.
Pure Olive Oil: This type is a combination of refined and virgin oils. It contains a higher acidic content.
Lampante Oil: It is used as a fuel and is not recommended for cooking purposes.
Olive Oil Nutrition Facts
Rich in antioxidants, vitamin K, and vitamin E, olive oil boasts a very good nutritional profile. It has mono-saturated fats like oleic acid and palmitoleic acid, which constitutes 10g of the total fatty acid count of 14g in this oil. As per the USDA, the oil is also free of carbohydrates and cholesterol, thereby reducing the risk of heart diseases. [1] The calorie count of this oil is similar to canola oil or butter, at around 120 calories in 1 tbsp of olive oil.
Nutrition Facts

---

Oil, olive, salad or cooking

Serving Size : 
Nutrient
Value
Water 

[g]

0
Energy 

[kcal]

884
Protein 

[g]

0
Total lipid (fat) 

[g]

100
Carbohydrate, by difference 

[g]

0
Fiber, total dietary 

[g]

0
Sugars, total 

[g]

0
Calcium, Ca 

[mg]

1
Iron, Fe 

[mg]

0.56
Magnesium, Mg 

[mg]

0
Phosphorus, P 

[mg]

0
Potassium, K 

[mg]

1
Sodium, Na 

[mg]

2
Zinc, Zn 

[mg]

0
Vitamin C, total ascorbic acid 

[mg]

0
Thiamin 

[mg]

0
Riboflavin 

[mg]

0
Niacin 

[mg]

0
Vitamin B-6 

[mg]

0
Folate, DFE 

[µg]

0
Vitamin B-12 

[µg]

0
Vitamin A, RAE 

[µg]

0
Vitamin A, IU 

[IU]

0
Vitamin E (alpha-tocopherol) 

[mg]

14.35
Vitamin D (D2 + D3) 

[µg]

0
Vitamin D 

[IU]

0
Vitamin K (phylloquinone) 

[µg]

60.2
Fatty acids, total saturated 

[g]

13.81
Fatty acids, total monounsaturated 

[g]

72.96
Fatty acids, total polyunsaturated 

[g]

10.52
Cholesterol 

[mg]

0
Caffeine 

[mg]

0
Sources include : USDA [1]
Health Benefits of Olive Oil
Olive oil has numerous beneficial qualities. Some of them are as follows:
Lowers Cholesterol Levels
A collaborative study conducted by the Harvard School of Public Health [2] and many other universities recommends including the extra virgin variety to reduce the risk of heart disease.
LDL cholesterol is the bad type of cholesterol, which increases the risk of heart attacks and other heart diseases. Extra virgin olive oil, which is rich in almost 40 antioxidant chemicals, helps reduce the oxidation effects of LDL cholesterol. It also helps increase HDL cholesterol levels.
The natural variety also contains 70% monounsaturated fatty acid. As a result, it lowers cholesterol accumulation in the blood and reduces heart problems.
Manages Diabetes
In a cohort study published in the journal Nutrition and Diabetes in 2017, it showed that olive oil can help in preventing and managing diabetes when included in the daily diet. [3]
Weight Loss
Medical experts suggest that it is very difficult to gain weight from the mono-unsaturated fats present in olive oil. Research on the Mediterranean oil has shown positive results with regards to using it for weight loss as it contains healthy fats and is a great alternative for butter and other oils loaded with calories. [4]
Prevents Inflammation
Olive oil is rich in polyphenols that have anti-inflammatory and antimicrobial properties. As a result, its use helps inhibit the growth of pathogenic bacteria and relieve inflammation. [5]
Improves Digestion
Olive oil is known to aid in the digestive process. It is used as a medicinal oil to clean the digestive tract and improve bowel movements.
Delays Aging
Rich in antioxidants, olive oil slows the natural aging process of the human body. Used in cosmetic products and natural herbal therapy, it does wonders for the skin by giving it a natural shine.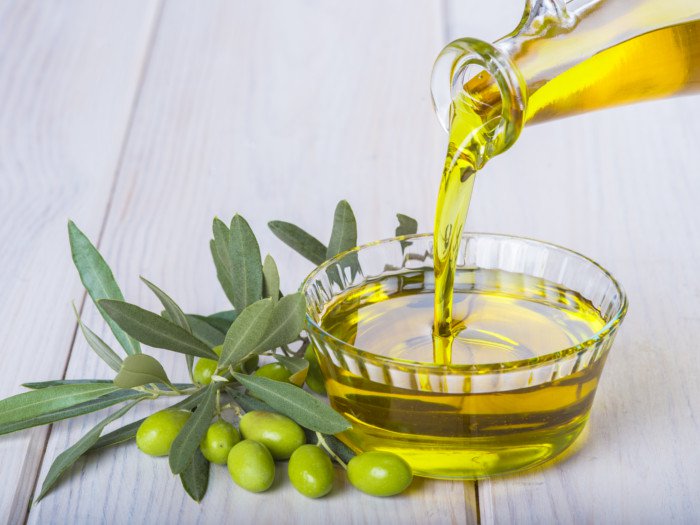 Prevents Gallstones
Use of olive oil is also effective in preventing gallstones as it has a laxative effect. It is often used by people practicing gallbladder cleanse.
Strengthens Cell Walls
As per a 2018 study published in the Internation Journal of Molecular Sciences [6], olive oil contains polyphenols which help in building stronger cell walls. It also increases the elasticity of arterial walls, protecting you against various heart conditions.
Anticancer Potential
Olive oil is said to protect the human body against cancerous growth, especially bowel cancer. Medical research done at Oxford University has shown positive signs that the acidic content of this oil can prevent the commencement of rectum and bowel cancer.
The Carcinogenesis [7] journal has covered a study in 2018 suggesting that the extra virgin variety is a godsend when it comes to preventing cancer cell growth in the body.
One more study also confirms the same effect and also reveals that out of all, olive oil has shown a helpful effect on breast cancer. [8] Hydroxytyrosol, a major component of the oil may help prevent breast cancer in postmenopausal women.
Lowers Hypertension
A recent research study suggests that a Mediterranean diet comprising of food rich in unsaturated fats (found in olive oil and nuts), nitrite, and nitrate (found in leafy green vegetables) may help protect you from hypertension. [6] [9]
There are several grades of the oil, according to the flavor, aroma, acidic value, and color. Readers are advised to buy authentic oil with proper evaluation for cooking or medicinal purposes.
Other Benefits
The oil boosts the metabolism, the growth of good bone structure, and brain development in children. It is also an excellent source of vitamin E, which is very beneficial for older people.
Grades of Olive Oil
When you go to the market, you find different types of olive oils. What does extra virgin mean? What does US Fancy mean? There are two main types of gradations that you will find, IOOC standards and US standards.
IOOC Standards
The International Olive Oil Council (IOOC) has released the Trade Standard Applying to Olive Oils and Olive-Pomace Oils. [10] The council has provided descriptions for different types of oils; some of these descriptions are given below:
Virgin Olive Oil: It is prepared by mechanical and physical means. There is no alteration to the oil after processing. Edible virgin oil has a free acidity of not more than 2 grams per 100 grams. No food additives are permitted in this oil.
Extra Virgin Olive Oil: This is a type of edible oil, which has a free acidity content of no more than 0.8 grams per 100 grams. No additives are permitted in this oil.
Ordinary Virgin Olive Oil: This has a free acidity content of no more than 3.3 grams per 100 grams. This oil does not contain any additives.
Lampante Virgin Olive Oil: This oil is not fit for human consumption. It has a free acidity content of more than 3.3 grams per 100 grams. It is used for refining and technical purposes.
Refined Olive Oil: It is the refined form of virgin olive oil. It has a free acidity content of not more than 0.3 grams per 100 grams.
Olive Oil: This is a blend of refined and edible virgin olive oil. It has a fatty acid content of not more than 1 gram per 100 grams.
US Standards
The United States Department of Agriculture (USDA) released the United States Standards for Grades of it in 1948. [11] [12] These standards are still followed in the US and this has, to some extent, caused problems for consumers in purchasing the right kind of oil.
The USDA grades olive oil in the following four categories:
US Grade A or US Fancy
US Grade B or US Choice
US Grade C or US Standard
US Grade D or Substandard
The grading is done based on free fatty acid content (calculated as oleic acid according to the Official and Tentative Methods of Analysis of the Association of Official Agricultural Chemists), absence of defects, (degree of freedom from cloudiness at 60 degrees F), odor and flavor (typical olive oil flavor and its variation to off-flavors). It has given a 100 point score sheet for olive oil in which free fatty acid content, an absence of defects, odor, and flavor have weights of 30, 30, 20, and 20 respectively.
Fancy: US Fancy refers to the oil that has a fatty acid content of no more than 1.4 percent (27-30 points). It should be entirely free from any defects (27-30 points). It should have good typical olive oil odor (18-20 points). It should have a good typical flavor (18-20 points). Finally, it should have a total score of no less than 90 points.
Choice: US Choice refers to the oil that has a fatty acid content of more than 1.4 percent but not more than 2.5 percent (24-26 points). It should be reasonably free from any defect (24-26 points). It should have a reasonably typical odor (16-17 points) and a reasonably good flavor (16-17 points). It should have a score of no less than 80 points.
Standard: US Standard refers to olive oil that has a fatty acid content of more than 2.5 percent but less than 3.0 percent (21-23 points). It should be fairly free from any defect (21-23 points). It should have a fairly good typical odor (14-15 points). It should have a fairly good typical flavor (14-15 points). It should have a score of no less than 70 points.
Substandard: Substandard quality refers to olive oil that has free fatty acid content of more than 3.0 percent (0-20 points). It has more defects than what is present in the US Standard type of oil (0-20 points). It fails to have even a fairly good typical oil odor (0-13 points). It fails to have a fairly good typical olive oil flavor (0-13 points) and scores less than 70 total points.
Please follow and like us:
Why You Should Pay Attention to Chronic Inflammation
The connection between inflammation and disease
If you read health sites or follow celebrity doctors, you've probably heard the buzzword "inflammation." You may even have heard people touting miracle cures such as the "anti-inflammatory diet."
Are you confused?
Many people think of inflammation in terms of external signs: swelling, bruising and so on. But in truth, uncontrolled inflammation plays a role in almost every major disease, including cancer, heart disease, diabetes, Alzheimer's disease and even depression.
Inflammation occurs naturally in your body. But when it goes wrong or goes on too long, it can trigger disease processes. That's why researchers spend so much time trying to understand it — and developing ways to counteract it.
"Inflammation occurs naturally in your body. But when it goes wrong or goes on too long, it can trigger disease processes."
Paul DiCorleto, PhD
Lerner Research Institute
Too much of a good thing
Inflammation is your body's first line of defense against toxins, infections and injuries.
When your cells are in distress, they release chemicals to alert the immune system. The immune system sends its first responders — inflammatory cells — to trap the offending substance or heal the tissue. As this complex chain of events unfolds, blood vessels leak fluid into the site of the injury, causing the telltale swelling, redness and pain. These symptoms might be uncomfortable, but they are essential for the healing process.
Here's the problem with inflammation: Over time, you can end up with too much of a good thing. With chronic inflammation, your body is on high alert all the time.
This prolonged state of emergency can cause lasting damage to your heart, brain and other organs. For example, when inflammatory cells hang around too long in blood vessels, they promote the buildup of dangerous plaque. The body sees this plaque as foreign and sends more of its first responders. As the plaque continues to build, the arteries can thicken, making a heart attack or stroke much more likely.
Similarly, inflammation in the brain may play a role in Alzheimer's disease.  For many years the brain was thought to be off-limits to inflammation because of the blood-brain barrier — a sort of built-in security system — but scientists have proved that immune cells can and do infiltrate the brain during times of distress.  Their role in disease progression is not yet clear, however.
RELATED: 9 Diet Tips to Help You Fight Inflammation
Why researchers focus on inflammation
Add these disease processes — and many others — together, and it's easy to understand why inflammation is a hot research topic. Understanding exactly how it causes disease could lead to better interventions and treatments to stop it.
The science of obesity offers an example. We're learning more about how obesity triggers a cascade of inflammation that leads to metabolic conditions such as insulin resistance. Understanding exactly how that cascade works could lead to treatments for such conditions.
For example, Xiaoxia Li, PhD, of the Lerner Research Institute recently discovered that a protein called MyD88 helps coordinate the inflammatory cascade in obesity. Dr. Li's research showed that making changes to MyD88 could reduce inflammation and insulin resistance in mice fed a high-fat diet. Future research to back up these findings could lead to better understanding, and even targeted therapy.
[Tweet "Find out why #inflammation has become a public health enemy."]
What you can do now
You're going to have occasional inflammation from minor infections, allergies or injuries. This is normal. And every bump and bruise does not require an anti-inflammatory medication.
However, you can focus on lifestyle choices that reduce your risk of chronic inflammation — the kind that leads to disease. Many lifestyle factors have been shown to play a part in cellular inflammation: smoking, obesity, chronic stress and drinking alcohol excessively, for example. Fortunately, you can control these factors. And if you need help from a medical professional to do so, it's available.
Work on a smoking cessation plan with your doctor, and know that many people need multiple attempts to find success quitting tobacco. Ask about a weight-loss plan through healthier diet and exercise, and know that medications and surgical options are available for more serious cases. Be wary of miracle claims about diets, but do seek nutrition advice from your doctor and a registered dietitian if needed. Talk to your doctor about stress-management techniques if work or home life are overwhelming you.
Researchers are learning more about the missing links between inflammation and disease every day. But until we have more answers, your best defense against inflammation is to control the factors you can choose to control.
More information:
Guide to treatment for diabetes
Guide to treatment for congenital heart disease

Please follow and like us:
What are the benefits of spirulina?
Spirulina is a type of blue-green algae that people can take as a dietary supplement. People consider spirulina a superfood due to its excellent nutritional content and health benefits.
Spirulina has a high protein and vitamin content, which makes it an excellent dietary supplement for people on vegetarian or vegan diets.
Research suggests that spirulina has antioxidant and inflammation-fighting properties, as well as the ability to help regulate the immune system.
This article discusses 11 potential health benefits people may get from adding spirulina to their diet.
1. Excellent nutritional profile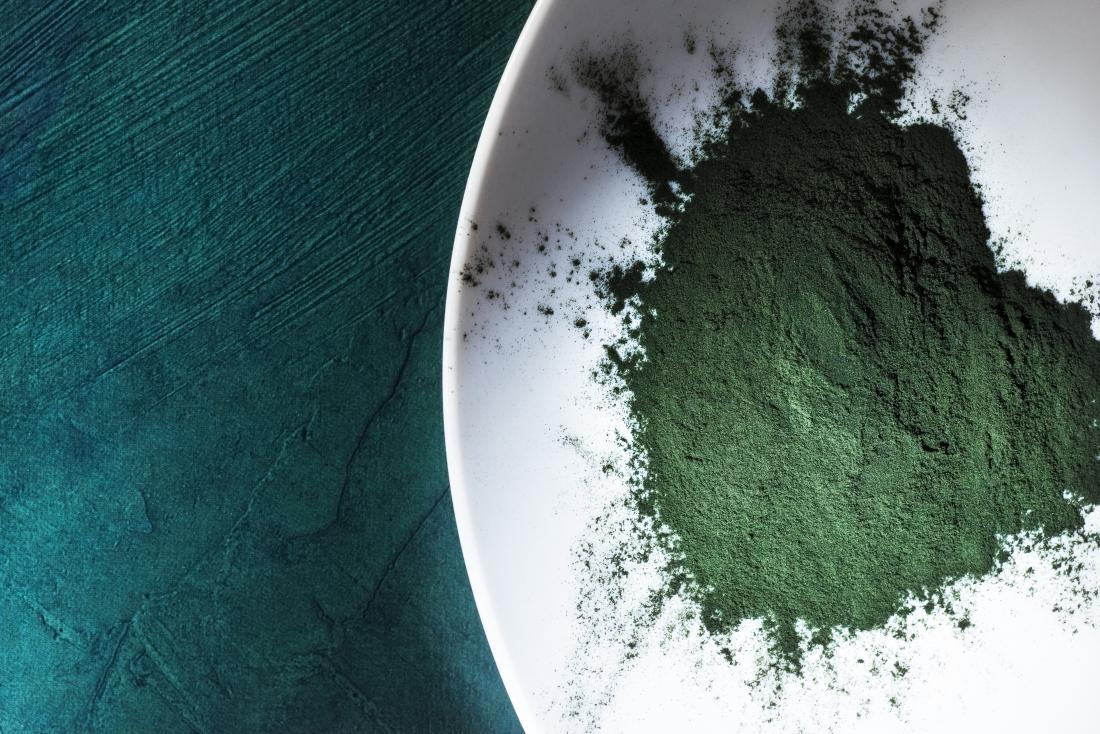 Consuming spirulina is one way to supplement protein and vitamins in people's diets without notable side effects.
One tablespoon or 7 grams (g) of dried spirulina contains:
It also contains thiamin, riboflavin, niacin, folate, and vitamins B-6, A, and K.
Taking spirulina, as part of a balanced diet, may help a person to stay well nourished.
2. Losing weight
People can usually lose weight if they eat fewer calories than they use. Spirulina is a high-nutrient, low-calorie food that contains a lot of nutrition in a small amount of powder. Introducing spirulina to the diet may help people lose weight without losing nutrition.
The results of a 2016 double-blind placebo-controlled trial suggest that spirulina may aid weight management. In the study, people who were overweight and regularly ate spirulina for 3 months showed improved body mass index or BMI.
3. Improving gut health
Spirulina can be digested easily because of its structure where the cells do not have tough, fibrous walls. But can consuming it improve gut health?
More research on humans is needed, but animal studies indicate spirulina may support gut health as people age. A 2017 study on older mice suggests that spirulina may preserve healthy gut bacteria during the aging process.
Spirulina does not contain much fiber, so it is essential to include other gut-healthful, high-fiber foods in the diet.
4. Managing diabetes
Spirulina shows promise as a way to manage the symptoms of diabetes. But more research is needed before doctors can recommend it.
A 2018 review study found that spirulina supplementation significantly lowered people's fasting blood glucose levels. High fasting blood sugar is a common problem in people with diabetes type 1 and 2. This suggests that spirulina supplements may help people control diabetes.
These results suggest that spirulina shows promise as a food to support type 2 diabetes management.
A 2017 animal study supports the idea that spirulina may help manage diabetes. In this study, the researchers gave mice with type 1 diabetes spirulina extract orally. As a result, the mice showed:
lower blood sugar
higher insulin levels
improved liver enzyme markers
The researchers note that the antioxidant effect of spirulina may be helpful in treating type 1 diabetes.
5. Lowering cholesterol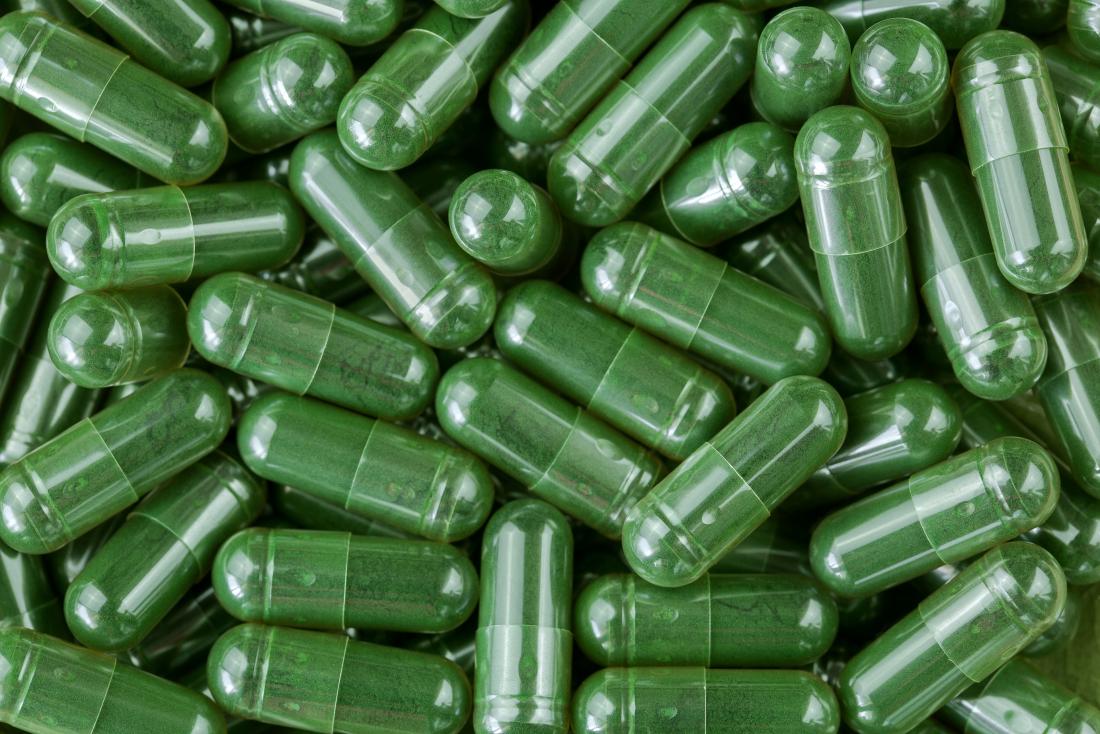 Taking spirulina extract may help to lower cholesterol levels. Cholesterol is an unhealthful fat in a person's blood that medical experts link to heart disease.
A 2016 systematic review and meta-analysis suggests that taking spirulina supplements may have a positive impact on blood lipids, which are fats in the blood. In the study, spirulina was found to significantly reduce total cholesterol and lower LDL — "bad" — cholesterol while increasing HDL — "good" — cholesterol.
Stay in the know. Get our free daily newsletter
You've got questions. We've got answers. Expert, evidence-based advice delivered straight to your inbox to help you take control of your health
Your privacy is important to us.
A 2013 study also supports this health claim. Researchers found that taking 1 g of spirulina every day reduced participant's total cholesterol after 3 months.
6. Reducing blood pressure
As discussed above, spirulina may lower cholesterol, and there is also evidence that it could help control a person's blood pressure.
A small-scale 2016 study found that eating spirulina regularly for 3 months reduced people's blood pressure when they were overweight and had hypertension.
7. Preventing heart disease
High blood pressure and cholesterol levels are both linked to heart disease. As spirulina may reduce both of these risk factors, is it possible that it could help prevent heart disease?
A 2013 review suggests that these blue-green algae may play a role in preventing heart disease. This might be due to their cholesterol-lowering, anti-inflammatory, and antioxidative effects.
8. Boosting metabolism
Taking spirulina may help boost a person's metabolism. A higher metabolic rate may make a person feel as if they have more energy. It may also increase the number of calories they burn each day, which may aid weight loss.
In a small-scale 2014 study, people who took 6 g of spirulina a day experienced beneficial metabolic effects, alongside weight loss and better health-related quality of life.
The people in this study had non-alcoholic fatty liver disease, and so more research is needed to see if spirulina may boost metabolism in others without this condition.
9. Reducing allergy symptoms
When a person has allergies to pollen, dust, or pets, the inside of their nose may swell. This reaction is called allergic rhinitis. There is some evidence that spirulina could help improve the symptoms of this condition.
A 2013 study states that spirulina can relieve nasal inflammation and reduce histamine in the body. Compared to a placebo, it may reduce the symptoms of allergic rhinitis, including:
runny nose
sneezing
nasal congestion
itching
A 2011 review notes that there is a reasonable amount of evidence for the positive effects of spirulina on allergic rhinitis, but that larger trials are needed before researchers know the true impact.
10. Antitoxic action
In certain parts of the world, people are at risk of poisoning from contaminated drinking water and other sources of pollutants. Early research suggests that spirulina may offer a way to treat those affected.
A later 2016 review found that spirulina had antitoxic properties that could counteract pollutants in the body, including:
arsenic
fluoride
iron
lead
mercury
The authors of the review suggest that spirulina could be a useful substance to use alongside clinical treatment of pollutant poisoning.
11. Supporting mental health
A 2018 paper highlights the potential role that spirulina could play in treating mood disorders.
The theory is that spirulina is a source of tryptophan. Tryptophan is an amino acid that supports serotonin production. Serotonin plays an important role in mental health.
People with certain mental health conditions, such as depression and anxiety, may have reduced levels of serotonin. Taking tryptophan supplements to maintain healthful serotonin levels may play a role in supporting mental wellbeing.
Researchers need to conduct more clinical trials before they know the true role of spirulina in supporting mental health.
Are there interactions or risks?
The United States Food and Drug Administration (FDA) does not regulate spirulina, but a 2014 review notes that spirulina is well-tolerated by most people, so does not cause any significant side effects.
It is a good idea to check any drug interactions with a doctor before taking a new dietary supplement, including spirulina.
How to include spirulina in the diet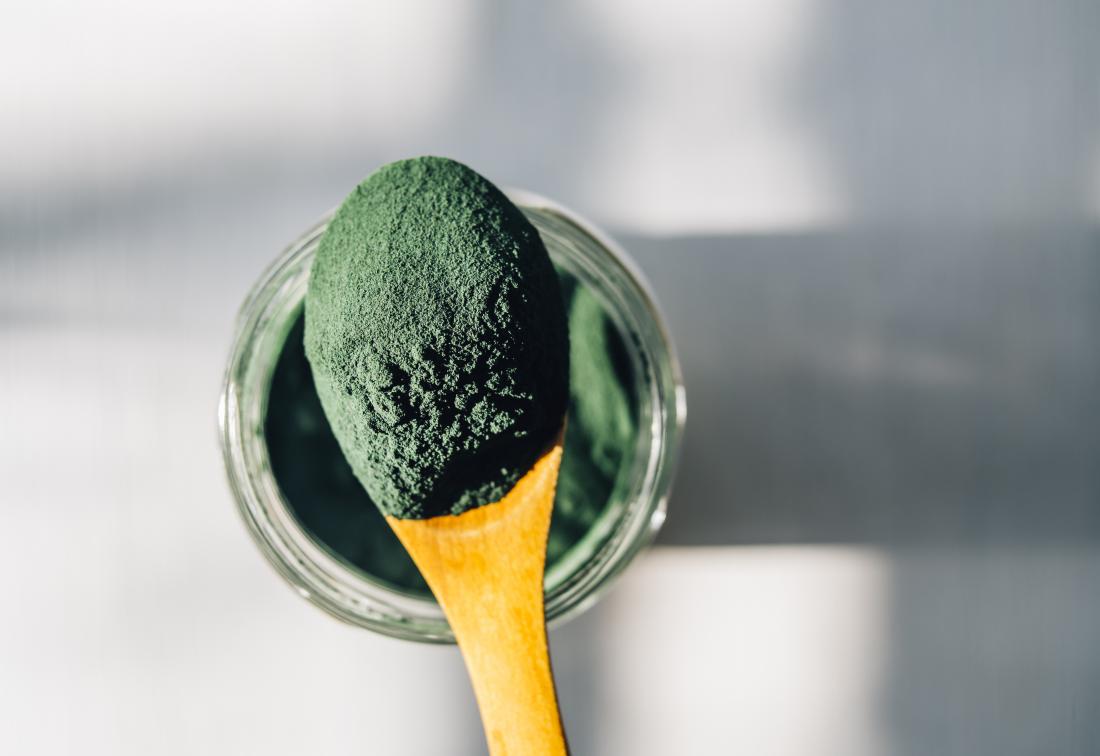 Spirulina is available in powder or tablet form.
As a powder, people can:
add it to smoothies, which gives the drink a green color
sprinkle spirulina powder on salads or in soups
mix it into energy balls, along with other healthful ingredients
stir a tablespoon into fruit or vegetable juices
People can also take spirulina as a dietary supplement in tablet form.
People can buy dried spirulina from health food stores or online stores. Spirulina tablets are also available in health food stores, drug stores, and online.
Summary
Initial research suggests taking spirulina may improve the following:
weight loss
gut health
diabetes management
blood pressure
cholesterol
risk of heart disease
metabolic rate
allergy symptoms
mental health
Alongside zinc, spirulina shows promise as a treatment for chronic arsenic poisoning.
More research is needed before doctors can recommend spirulina for the treatment of any health condition.
Please follow and like us: