Tea
Samurai means "to serve."
Tamurai means "to serve through tea."
AT TAMURAI TEA OUR GOAL IS TO HONOR THE SPIRIT OF HEALTH AND WELL-BEING.
Hibiscus-Cinnamon Tea
I was very fortunate to grow up with two wonderful and caring grandmothers. My maternal grandmother, Jesusita, passed away when she was 98 years old, and my paternal grandmother, Anita, passed away at the age of 92. Just the other day, I was thinking about the incredible lives they lived, and all they experienced. Although they only met each other a couple of times they had a lot in common, and I have a feeling they would have enjoyed each others company.
Both of their husbands passed away young and they were left to raise their children alone. They were both strong women, fabulous cooks, and very healthy. I was starting to wonder if there was a secret ingredient in common, and then it hit me… Cinnamon!
Both my grandmothers drank "canelita" té de canela (cinnamon tea), as well as used the aromatic spice in savory and sweet dishes. After researching, I realized there are surprising health benefits and unique healing abilities associated with this beloved spice.
Cinnamon can help lower cholesterol, reduce sugar levels, treat bad breath, protect against heart disease, boost brain activity and help with memory loss, fight yeast infections, treat stomach ulcers, alleviate gas, nausea and indigestion, increase blood circulation, act as a natural diuretic, and more.
I especially love drinking té de canela with honey in the colder months, but have also incorporated this spice into my daily baking and cooking. If you're ready to start taking cinnamon as a natural remedy I'd highly recommend you add a pinch to your tea or coffee, sprinkle some on your wheat toast, and for a delicious tea, try this enchanting aromatic hibiscus-cinnamon tea.
My mom made hibiscus tea with the addition of cinnamon over the holidays and it is so fragrant and smells like Christmas. Hibiscus has a tart, cranberry-like flavor, and sugar or honey can be added to sweeten it. This tea can be served hot or cold.
And just like cinnamon, hibiscus tea is chockfull of health benefits and loaded with antioxidants such as vitamin A, vitamin C, and zinc. Hibiscus also reduces high blood pressure, helps lower cholesterol, offers liver protection, has strong antioxidant and anti-tumor properties, helps relieve symptoms of anxiety and depression, benefits weight loss, improves digestion, helps boost the immune system, helps improve skin conditions, and more.
Sounds too good to be true? If my grandmas both drank té de canela and lived long healthy lives then I'll drink to that.
I'll be making this tea daily and serving it with dinner. After all, its not going to hurt, and it tastes delicious. I would recommend drinking this rather than sodas. Serve it cold with honey and a splash of sparking water if you are craving some bubbly.
Instructions
Bring 2 cups water to a boil in a pot. Add the cinnamon sticks and flowers and cover tightly with a lid. Remove from the heat and steep for 1 hour or until cool.

Strain hibiscus-cinnamon tea into a pitcher and discard cinnamon and flowers.

Dilute with 5 cups of water.

Refrigerate until time to serve.

Serve hot or cold.

Sugar or honey can be added to sweeten.
Please follow and like us:
These Hibiscus Tea Health Benefits May Have You Trading in Your Daily Chai
Plus, it makes a mean low-cal cocktail.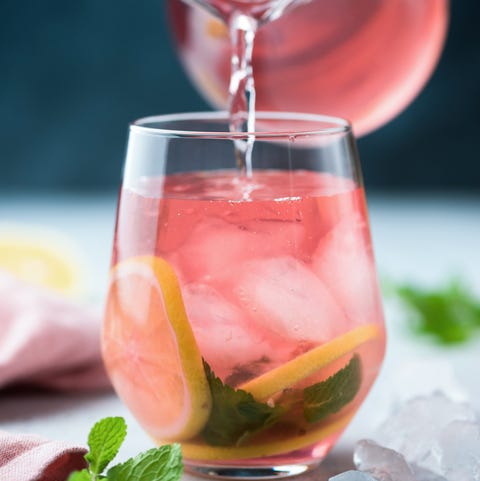 Though you might be set in your afternoon chai routine, or have never even considered subbing your energizing cup of English Breakfast with something new, it may be time to think about hibiscus tea which is steeped with (pun intended) health benefits. The herbal tea made from soaking the hibiscus plant in hot water, has a tart flavor, similar to cranberry juice. Sip it hot or cold and it may just improve your well-being. Ready to pour yourself a cup? Here are the potential health benefits of hibiscus tea you may experience. Cheers!
Hibiscus tea is loaded with antioxidants.
This caffeine-free beverage is a great source of antioxidants, which help fight free radicals and reduce oxidative damage, says Maggie Michalczyk, RD.
Free radicals and oxidative damage attack your cells and exacerbate the aging process (hello wrinkles!), while also raising your risk for illness and disease. Various studies have shown links between free radical damage and prevalence of dementia, diabetes, and cardiovascular disease, among others, so you want to keep those bad boys away as best as possible. The high dose of antioxidants in hibiscus tea might be able to slow this process, lower inflammation in the body, and keep your skin looking dewy and youthful.
It may be good for your heart.
Studies have shown that drinking hibiscus tea offers heart-healthy benefits, such as lowering blood pressure. "In a study in The Journal of Nutrition, adults with high blood pressure who consumed three servings of 8-ounce glasses of hibiscus tea daily for six weeks saw a decrease in their overall blood pressure," says Natalie Rizzo, MS, RD, author of The No-Brainer Nutrition Guide For Every Runner. Just note, this was a small study of 65 participants. Still, another review found that drinking this herbal tea lowered both systolic and diastolic blood pressure.
However, definitely discuss this beverage with your physician first if you've had any heart complications. "One point to note is that while hibiscus tea may be a safe and natural way to help lower blood pressure, it's not recommended for people taking hydrochlorothiazide, a type of diuretic used to treat high blood pressure, which may interact with the drug," Michalczyk says.
And possibly your cholesterol levels.
"One small study showed that hibiscus tea increased 'HDL' (good) cholesterol, decreased 'LDL' (bad) cholesterol and triglycerides," Michalczyk says. There have been some conflicting studies, so larger studies are still needed to better examine the effects of hibiscus tea and cholesterol reduction.
Hibiscus tea has been associated with weight loss.
Hibiscus isn't a substitute for a healthy diet and exercise—it won't magically get rid of weight, but it could play a role thanks to its diuretic properties. "The key word here is that it could help with weight loss. More research is definitely needed to make this connection," says Michalczyk.
One study found that consumption of hibiscus extract for 12 weeks resulted in a lower body weight, less abdominal fat, and a lower BMI in overweight/obese people. However, extract is more concentrated than tea, so results won't be as strong.
Also, it's an anti-inflammatory, which can keep cortisol (the stress hormone), which attributes to fat storage, at bay. "Like fruits and vegetables, hibiscus tea contains a lot of antioxidants and polyphenols which work to protect the body against diseases and lower inflammation," she says.
Plus, it can help stave off cravings.
"A flavorful herbal tea like this is great to drink after dinner when you have a taste for something sweet," says Michalczyk. "It can help kick that craving because it changes the taste in your mouth," she explains. Too tart for you? Rizzo recommends adding a drop of honey.
And it makes a good low-cal cocktail.
Okay, while technically that's not a health benefit, if you're looking for a boozy drink with a healthy kick, hibiscus tea is a perfect sangria base. Or, add it to vodka with a squeeze of lime and honey, and you've got yourself a refreshing adult bev.
Hibiscus tea may help your digestion.
"Diuretics increase the amount of water and salt expelled from the body as urine. Hibiscus tea has been shown to work as a natural diuretic, pulling salt out of the body which is a mechanism by which blood pressure is reduced," says Michalczyk.
Plus, it's essentially like drinking sugar-free and caffeine-free flavored water, which will keep you hydrated. "In turn, drinking ample amounts of water helps you stay regular, prevents constipation, and aids in digestion," adds Rizzo.
Hibiscus tea might support your immune system.
That's right—drinking this pink tea may keep away the sniffles. "This is because hibiscus tea contains vitamin C, a strong antioxidant that we know is responsible for keeping our immune systems healthy," says Michalczyk.
What's more, "hibiscus tea is also high in iron, a mineral that keeps the immune system balanced and helps the body to maintain red blood cells," she adds. Plus, the vitamin C helps to increase the absorption of the iron, which is great for maximum rewards all around.
What about your kidneys?
"One study conducted on rats evaluated hibiscus as a way to prevent calcium oxalate crystals from turning into kidney stones," says Michalczyk. Again, more research needs to be done to conclude that hibiscus tea is a proven method for kidney stone prevention in humans, though," she says.
And your liver?
Try drinking this tea after a night out. "Both human and animal studies have shown that hibiscus may prevent liver damage. Some showed decreased markers of liver damage and some showed an increased concentration of detoxifying enzymes in the liver," says Michalczyk.
To be fair, these studies looked at hibiscus extract, not hibiscus tea. And don't treat hibiscus tea as a treatment for any liver condition—you'll need a formal chat with your doctor about other remedies and medications.
Please follow and like us:
Dear Friends of Rishi,
We are celebrating 20 years in business and I want to personally extend my sincere gratitude for your role in our story.
From a young age I became ignited with the creativity that flows from the culinary arts, herbology, and world travel. In college, I voraciously studied the teas and herbs of the world, formulating botanical blends and even herb-infused mixology drinks for friends. In my early 20's, I traveled deeply in the Caribbean and across Southeast Asia to expand my repertoire of ingredients and to pursue a deeper experiential knowledge of their ancient food traditions. In 1997, I made the decision to turn these passions into a business. I built a company with the aim of connecting like minds to the diverse origins I would explore, and to make that connection tangible in delicious, organic drinks bestowing tea's traditional promise of health, vitality and balance.
As we completed our 20th year in 2017, we reflect on the unimaginably rich experiences and enduring friendships we've made with so many inspiring people, from farmers and producers, to coffee roasters and small business owners, to Michelin-starred chefs, craft spirits distillers and sommeliers. To this day, it is just as rewarding as back then to see so many like-minded, creative individuals catch a passion and embark on a devoted study of tea and botanicals.
We spent some time these last few months reflecting on all of this and creating a new visual brand identity that would commemorate our 20 year milestone and celebrate the pillars of our craft. We are thrilled to present our new brand mark with fresh updates to typography and color palettes you see here, which goes live today on our digital platforms and on loose leaf packaging that will transition throughout the spring.
Our new plucking hand mark is inspired by the artistic depictions of Rishis beholding plants at the Wat Pho botanical school in Thailand, one of the original inspirations for our brand name. We are proud to include our founding year. A celestial orb nods to our embracing of the dynamism of Nature and its humbling mastery over the harvest.
Selector
We are a team that I developed and continue to lead and mentor, which travels to the most remote regions of the world to source teas and botanicals of rarefied quality and provenance. Our selection sets the standard.
Importer
We are a pioneer of verified organic tea and botanicals which we import on a direct trade basis with growers and specialist producers. Our supply chain and enduring relationships are our core strengths.
Maker
We make artful botanical products inspired by equal parts ancient herbal tradition and modern culinary innovation. By sharing our passion for herbal and culinary arts, we aim to be a wellspring of inspiration for your tea life.
We hope you enjoy our new look as much as we do. Thank you dearly for your partnership over our first twenty years. Here's to the next!
Joshua Kaiser
CEO & President
Rishi Tea & Botanicals
Rishi Milestones, 1997 – 2017
Rishi is the first direct trade primary importer of many EU certified organic teas and botanicals never before sold in the USA, before there was the USDA National Organic Program (NOP) standard, and among the first tea companies in the USA to achieve the USDA NOP organic certified status when the NOP was first established by the USDA in October 2002
First direct trade importer of EU certified organic Pu'er Tea and EU certified organic White Tea into the USA in 1999
First to introduce organic Schisandra Berry into herbal tea blends in the USA in 1998
Rishi Pioneered the organic Japanese tea market in the USA with the esteemed Nishi family of Kagoshima since 2004 and we continue to be a major importer of the Nishi family's top teas in the USA
Rishi is the largest importer of certified organic teas from the Golden Triangle area of northern Thailand in the world market and maintains a strong network for research and development of Southeast Asian teas
Rishi is the largest importer of certified organic specialty Green, White, Black and Pu'er teas from Yunnan, China in the USA
Rishi clears hundreds of tons of certified organic specialty teas and botanicals from across the world and connects with hundreds of farming families
First to introduce Turmeric in loose leaf herbal teas in the USA
First to introduce Matcha Stick Packs in the USA
Expanded into a 50,000 sq. ft. facility in 2014, designed by us for immaculate food safety and quality control; earned SQF Level II global food safety manufacturing standard in 2016
Rishi crafted brewed Sparkling Botanicals earned the FABI Food and Beverage Innovator award in 2017
Please follow and like us: